Wellington Sevens Fever!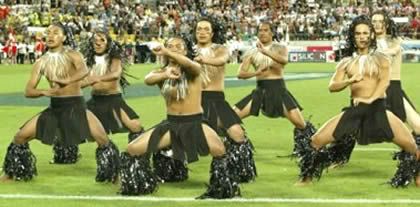 If you happen to see a group of large, fit, young lads wandering about the Wellington streets this week, chances are you've either stumbled across the cast of
Downstage
's latest play '
The Boys in the Band
' , or, and more likely, one of the
Rugby Sevens teams
that are in town for this
weekend's tournament
.
More
info here
,
draw here
,
results here
. Quick reference for Friday's pool play: New Zealand plays Kenya at 3:12pm, the Cook Islands at 6:08pm, and wrap up the pool play by taking on Samoa at 9:56pm (those later games all look to be corkers in fact, with South Africa v. Argentina, Fiji v. France and England v. Australia coming immediately before the last NZ game).
And don't hold your breath on the NZ team defending their crown. Poor old Titch is lamenting (and rightly enough) his inability to get a full-strength team together when the Super 14 teams are already playing pre-season warm-ups, and won't release players for what is the highest profile sevens event in New Zealand (and one of the top two or three in the world). As a result, the
NZ Herald reports that
...
More than half of the squad to defend New Zealand's IRB Wellington sevens crown have never played for their country and coach Gordon Tietjens will be "pleasantly surprised" if his side can win the tournament.
"Pleasantly surprised"? Still, we were having the same pessimistic thoughts before the announcing of the host of the 2011 Rugby World Cup, so perhaps there is some hope.