Free Acheh Protest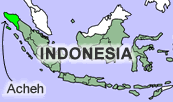 The Indonesian Ambassador is giving a talk at the
Wellington Law School
today, giving everyone the chance to voice their disapproval of his government's
ongoing use of violence and torture in Acheh
.
Bloggreen
points out that there'll be a nice big banner to rally behind, but any other implements of protest (noise-makers, placards, that sort of thing) are most welcome.
The protest starts at 4:45pm, meeting point is the
Cenotaph
.
I'm thinking I might pop along just to protest against the
Indonesian Embassy's NZ website
.
More on Acheh:
Wikipedia - Acheh
|
Wikipedia - Free Acheh Movement
|
Achech Times