Connan & the Mockasins @ Slowboat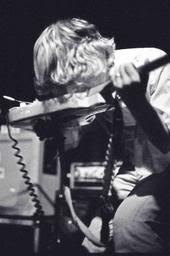 The 'next-big-thing' out of Wellington (if you haven't heard that before, then you heard it here first)
Connan & the Mockasins
have just released their debut EP '
Uuu, It's Teasy
', and are celebrating with a free instore concert down at
Slowboat Records
tomorrow (Thu 25th May) from 5pm.
For those who have yet to witness the true glory of Connan in full flight, imagine a skinny white guy with a big blonde moptop channeling the spirit of Jimi Hendrix and Cream. Or something. The official press release goes on about 'psychedelic blues rock' and suchlike, so maybe that's more meaningful to you. You can hear (and download) some tunes over at
their official website
, and
some samples of the EP at smokecds
.